Shutters
Family owned and operated. Serving Lakeland and Central Florida since 1972

Fashionable Shutters at Affordable Prices.
Looking for durable shutters that can handle the Florida heat and moisture? Polycore shutters are the perfect product. Polycore shutters have an aluminum core in the rails and louvers that give the shutter stability and will last a life time. Made to resemble and feel like painted wood, only more tough and sturdy. Our Polycore shutters are made locally here in central Florida for fast production! Looking for plantation shutters to match the dark wood tones in your home? We offer stained basswood shutters in a variety of colors. Our basswood and Polycore shutters both come with a variety of framing options and louver sizes to give your home the perfect look. Made with frames that can accommodate tilt in windows and panel/door widths that give you the maximum view out your windows. There are many styles of plantation shutters available on the market today that we could offer, but choose not to due to the performance we have seen over the last 30 years. Two types we would not recommend for various reasons are compressed MDF faux shutters and polyvinyl shutters. We would love to meet with you and show you in person how plantation shutters could transform your home!
Select Your Perfect Window Treatment
We're here to help. Schedule your free in-home consultation with no obligation.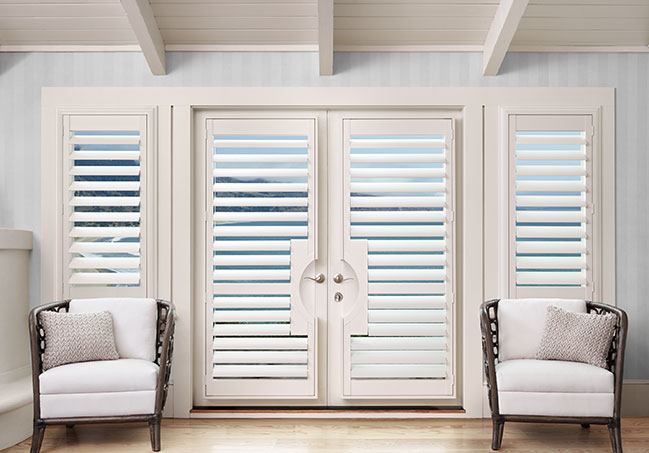 Plantation shutters add an element of simple but stylish refinement to your home or business. We offer plantation shutters for sliding glass doors, plantation shutters for french doors, and plantation shutters for windows, including arch top windows.
Plantation shutters can be applied to the interior and exterior covered porch of your home. Both interior plantation shutters and plantation shutters on a porch can increase your home's resale value. Depending on the specific application, we will install plantation shutters made of wood, polyvinyl, or a composite. For example, faux wood is ideal for outdoor plantation shutters because it tolerates moisture and sunlight better than real wood plantation shutters. Because of its sensitivity to weather and its tendency to warp, real wood is ideal for indoor plantation shutters.
What Our Customers Are Saying
I recently went to AAA Blinds of Lakeland to have my windows all set up and was quite pleased with the work. All the blinds and shutters that were installed work very well and look good. Overall I thought AAA Blinds of Lakeland did a great job with the work I needed, and had excellent customer service. I would definitely use them again if I find myself in need of more work, and I highly recommend their services.
Bill M. / Kissimmee
Select Your Perfect Window Treatment
We're here to help. Schedule your free in-home consultation with no obligation.