Plantation Shutters
Family owned and operated. Serving Lakeland and Central Florida since 1972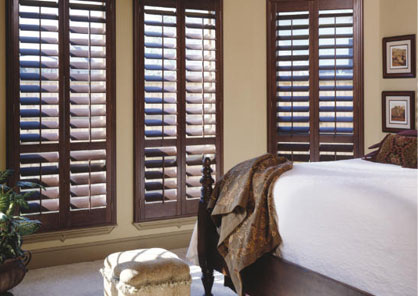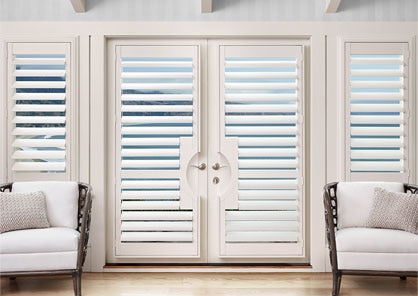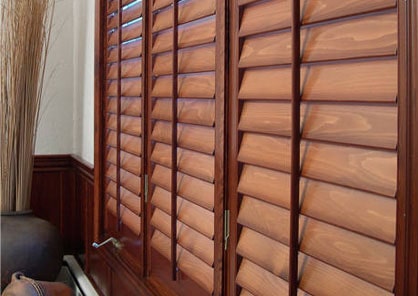 Offering the finest plantation shutters in Central Florida
Plantation shutters add an element of simple but stylish refinement to your home or business. We offer plantation shutters for sliding glass doors, plantation shutters for french doors, and plantation shutters for windows, including arch top windows.
Plantation shutters can be applied to the interior and exterior of your home. Both interior plantation shutters and exterior plantation shutters can even increase your home's resale value. Depending on the specific application, we will install plantation shutters made of wood, polyvinyl, or a composite. For example, faux wood is ideal for outdoor plantation shutters because it tolerates moisture and sunlight better than real wood plantation shutters. Because of its sensitivity to weather and its tendency to warp and rot, real wood is ideal for indoor plantation shutters.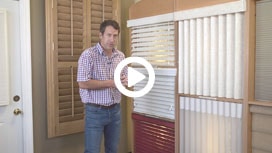 How to Choose Plantation Shutters
At AAA Blinds, custom plantation shutters are our specialty. No window or door is too tall or too wide. After 30 years in the business, we've covered them all. In every room of your home inside and out, you'll appreciate the classic beauty of plantation shutters. As you think about the types of shutters you might want, consider some of the following benefits of plantation shutters:
• Louvers are available in various blade sizes to give you better control of natural light, privacy, and ventilation.
• Real wood shutters are lightweight and strong, and they can be painted any color.
• Faux wood shutters resemble their real-wood counterparts, but they're made of synthetic materials that can withstand high-moisture environments, and they resist fading and cracking introduced by prolonged sunlight.
• All plantation shutters reduce energy consumption and cost because they provide insulation.
Select Your Perfect Window Treatment
We're here to help. Schedule your free in-home consultation with no obligation.
What Our Customers Are Saying
AAA Blinds of Lakeland was perfect! Everything was fine. I liked them because they were very nice and when they came they did a real good job and when they came they also made sure everything was working fine before they left. It was great service, everything was great."
Jill Smithson / Lakeland, FL
Commitment to 100% Customer Satisfaction
For 30 years, AAA Blinds has been consistently ahead of the competition in part because we go take extra steps to ensure all our customers are satisfied with our products, our performance, and our customer service. With the support of thousands of happy customers over the years, we stand proud of our products and our craftsmanship.
To help ensure your experience with AAA Blinds exceeds your expectations from start to finish, we provide:
• A warranty for the lifetime of AAA Blinds. As long as we're in business, we will honor your warranty.
• Competitive pricing that lets us quote the best price possible.
• A fair, honest, and complete price — without sales gimmicks or hidden charges.
• A warehouse, office, and showroom located in Lakeland that you can browse, and pleasant personnel who'd love to talk to you about your window treatments. We don't work out of our cars or our garages. Visit us at our brick-and-mortar location at your convenience.
Know Before You Buy — For Free!
Before you purchase anything, AAA Blinds goes the extra mile to give you an exceptional experience that our competition simply can't give. We believe you deserve to have as much information as possible before you make a decision to buy. To ensure you have the information you need, we offer the following basic services for free:
• Free in-home consultation
• Free interior design expertise and troubleshooting
• Free measurements
• Free demonstrations of any window treatment
• Free estimates
If you need plantation shutters or other window treatments in Lakeland, Winter Haven, Plant City, and surrounding areas in Central Florida, call today to schedule an appointment with one of our experts.